TwoSet Violin- Bringing the World of Classical Music to the Public
With the popularization of diverse music genres from pop music to R&B, less and less people consume or pay attention to classical music in the modern-day, some even viewing it as too distant from their current lives. Although classical music itself may not be relevant in as many people's lives as before, there certainly still are people who actively pursue a career in this field. TwoSet Violin is just one example out of the many. Brett Yang and Eddy Chen met in their early teens in 2006 at a math tutoring section and then bumped into each other the very next day at their first rehearsal with the Queensland Youth Symphony. Being the youngest ones there and familiar faces, they naturally became friends. Then in 2014, the two founded TwoSet Violin as a YouTube Channel, initially wanting to debunk the common misconception that classical music has a barrier for entry. To better understand the history, success, and significance of TwoSet Violin, the Circuit of Culture will be used.
The Circuit of Culture is a tool of cultural analysis that evaluates and examines cultural commodities from 5 aspects – representation, production, consumption, identity, and regulation – and the connections between any two of these nodes. To better approach and understand the phenomenon of TwoSet Violin, a general understanding of the tool itself is helpful.
Representation is a theoretical construct where the depiction or description of something or a symbol is used to refer to another thing. This connection between the text, symbol, or whatever medium or vehicle used to convey another idea is often connected to a reality that already exists. For example, the common association between a cross and Christianity is based on the pre-existing reality where people are familiarized with religion. As reality changes, the representation may also shift and thus is never fixed. It can be understood as a process of creating things and consequently constructing meanings.
Production relates to the formation of the cultural commodity itself and exceeds the mere act of physically creating and releasing something. The context of a commodity's birth and the incentive behind it are all interconnected with other societal aspects. For example, the production of phones does not only involve innovative technology but also a growing societal demand for easier communication and an increasingly globalized world. It can be seen as a dialogue between different parts of the process.
Consumption regards the use of the commodity and consumers actually take a more active and creative role than the common perception. In fact, the act of producing itself implies that consumers exist and would use this product. Consumption is not the end of anything but rather the start. As consumers use a product and have more understanding of it, their feedback and how they choose to use the product also influence the identity and representation of the commodity and how production processes might evolve in the future.
Identity is a product of the junction of all of the other aspects. It refers to the role that the commodity plays, which ultimately depends on how the consumers want to approach and interpret it.
Regulation includes all the rules, systems, and paywalls used to manage the commodity. It is something that the producers decide and can directly impact the experience of consumption.
From a pop music cover channel to a comedy channel to the facilitator and representative of a large community of young classical music professionals, what TwoSet represents is not fixed but constantly evolving based on the feedback they have received and what content they want to produce.
The duo first received inspiration from Gangnam Style's success. Despite being in a different language, the song received tremendous and unprecedented success, gaining over a billion views. The two thus realized that music has no barrier to entry and anyone can appreciate and like classical music despite its reputation of being too sophisticated, complex, or distant for people with no music background (Dallas 2020). Therefore, the earliest videos on the channel are mainly covers of pop songs in violin, a reflection of TwoSet's search of a middle point between classical music and popular culture (SBS Popasia 2016). Yet, unlike some channels that go viral overnight, their early videos only gained something around 10 views (Dallas 2020).
They did not give up, however, but simply reoriented the direction of the channel to be something just for fun. Rather than making videos to gain a wide viewership, the duo wanted to record the daily lives of themselves as music students and perhaps entertain their friends (Dallas 2020). Brett reveals in an interview with Radio New Zealand that there is constant pressure in the field of classical music to be perfect. Yet, both Brett and Eddy are not serious people but at the same time love classical music. This contrast motivated them to make content online as a form of creative expression. Although they were worried that people might judge them for what they do and the videos may affect their careers, they took the leap and shared a side of classical music that no one talked much about (RNZ 2017). Their frank portrayal achieved the unexpected effect of attracting a viewer base of many like-minded aspiring musicians who relate with their struggles and emotions. The channel records the day-to-day life of conservatory students that others can relate to, such as when you have classes with harsh teachers or have a hard time catching up because you have missed one day of practice (Sergi 2016). The channel does not just do comedy but uses comedy as a medium to reveal and highlight the paralyzing fears and insecurities of young conservatory musicians. The relatability of their videos allows them to make connections with real people, creating a huge online community (Dallas 2020).
In this process where consumers of their product respond differently to different content, what the channel signifies to the audience impacts the creators' decision as well. In other words, the interaction between the producer and the consumer has allowed the consumers' interpretation of what the commodity initially intends to represent to impact the producers' decision with what they intend to represent. Representation hence almost shifts and develops naturally as a byproduct from being a music cover channel to comedy and to being a representation and voice of music students to the outside world.
They are no longer just making videos about classical music but through sharing the emotions and lives music students might feel, they are able to make videos that non-music students can relate to and emphasize and thus popularize and break stereotypes in that way. People realize that classical music is not equal to being serious and rigid and sticking to a series of rules but is also played by dynamic and free-spirited people.
Use the players below to learn :
TwoSet Violin started as a YouTube channel and thus relatively has a lot of creative freedom over what and how to produce. Similar to the series of evolution with what they represent, the production of this duo also develops without a rigid plan but derives more from the dialogue between the creators and the many societal inputs, which range from their own experiences as musicians to observations made of the music industry's climate and feedback from viewers.
As both Brett and Eddy entered the Queensland and Sydney Symphony Orchestra in 2015, the duo balanced work, school, and their YouTube channel as a hobby. Yet, when Eddy participated in a competition in 2017 and did not get into finals because the judge thought he did not look at his pianist enough, he realized that there were so many musicians practicing hard yet the gatekeeper of their futures and careers might be doing things whimsically (Dallas 2020). The frustration from this personal experience then developed into observation and reflection made of the classical music scene as a whole, where it is extremely and increasingly difficult for young musicians to reach their goals and succeed.
This realization led them to go beyond creating YouTube videos and curating this online community of young musicians but to embark on new ventures where they can explore whether an alternative path is viable- can classical musicians hold concerts without being attached to a symphony? This was the question that the duo wished to answer.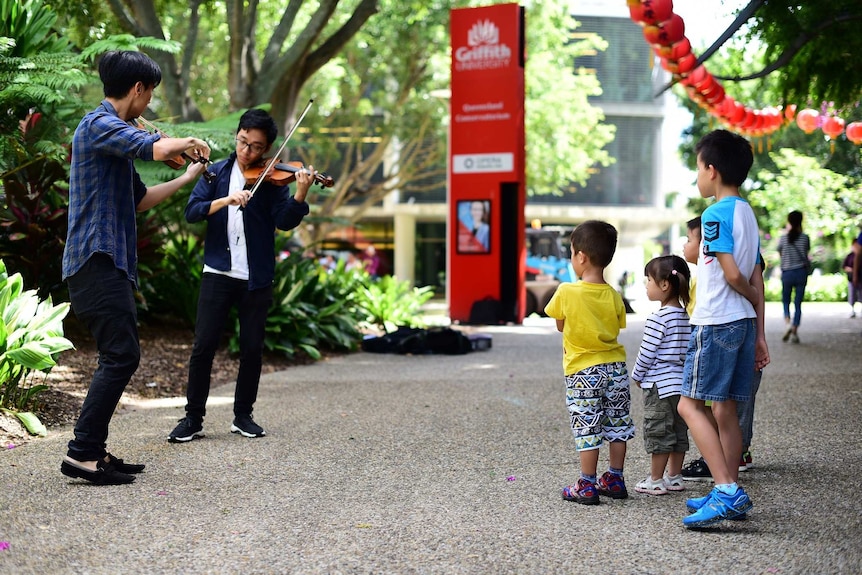 Traditionally tours need to be funded through government grants and sponsors and artists would need to write grants and participate in intense competition (Bali 2017). Instead, the duo decided to see whether crowdfunding would be a feasible future for classical musicians and decided to do busking on the streets until they raised enough money for a classical music and comedy world tour. The duo was able to get $50,000 in 5 days (Bali 2017).
In 5 days, they have collected enough to tour 10 international cities including London, New York, Tokyo, and more. The duo explains that decreasing funding has led many orchestras and musicians to struggle to survive and that crowdfunding might be an important solution or alternative for the future of classical music. They want to show that people collectively and create the future of classical music (Justine 2017). In this process, they felt very satisfied and moved as they connected with countless people from different walks of life. While the future is uncertain, this experience filled them with optimism and hope that the tour would be a great opportunity to inspire the next generation of classical music.
Although initially concerned that online subscribers might not translate into an in-person ticket-buying audience, the success of their debut show filled them with confidence and the duo took off from there to start world tours (Yang and Chen 2021). Everything was natural and there was no calculative move. Their genuine passion and wish to bridge classical music with a wider audience and to create a community for like-minded artists brought them the success they have today.
Concert is one way through which the consumers consume and support TwoSet's content. In fact, regulation and consumption go hand in hand. There are different levels of regulation that allow their wide fanbase to support and consume their products in different ways.
The first level includes subscription and offering viewership, which generates ad revenue. This is also what most of their consumers as casual fans would do as it is free and only requires some time commitment. Subscribers would be notified or would see in their feed once a new video is uploaded and decide whether they want to view it based on the title and the thumbnail. Or, they can simply visit the page and navigate the playlists created on the channel and consume whatever content they like. The view count of each video and how actively the viewers interact with the producers in the comment section can all inform TwoSet on what content they should make more of in the future. Hence, even the most casual and seemingly detached consumers are actually actively engaged in the creative process as their feedback is crucial.
The second level of regulation includes consumption beyond the YouTube format and involves buying merch, such as T-shirts or hoodies, which strengthens this sense of community. The link to the merch site is included in their website and also included in the description box of each video on YouTube and hence is easy to reach and use. The consumption of merch is based on an already established self-identification as a fan and a sense of attachment or belonging to the community that TwoSet created. By wearing the same clothes with the same inside jokes printed on them, not only do consumers feel more proximity with the creators but also more connection among the consumers themselves. This level of regulation and consumption also extends the online community to an in-person one where people can spot their fellow TwoSet fans more easily, reinforcing their representation of a community.
The third level of regulation involves concerts, which used to be more limited but have become more accessible as more concerts became virtual. Information and link to tickets are readily available on their website and the description box of videos, making it easy to navigate. Consumers who attend these concerts are supporters of the riskier and newer ventures of the duo. Their presence allows the duo to continue their pursuits as pioneers in exploring new ways of performing classical music and bringing it closer to the general public.
This tour is a groundbreaking venture for TwoSet as it is in this tour that they are no longer YouTubers who make videos about classical music but are pioneers, explorers, and representatives of breaking barriers and stereotypes and bringing classical music to more people
They combined their passions and started a tour with a comedy-music act, where they wrote an hour-long comedy skit accompanied by classical violin throughout the storyline. Chen of the duo mentions how young people often perceive classical music as boring and thus they want to share their love for classical music in a relatable way.
They have jumped out of the context of just a youtube channel and have become a phenomenon. When touring in Taiwan, The duo was invited to local schools to share their insight with and interact with the students (Zhao 2017). They mentioned that there are people who would use sandwich concerts to promote classical music and they are exploring their own ways to do that with their channel and performances.
As manifested through the analysis of TwoSet Violin, the circuit of culture is not a step-by-step procedure as each aspect within it is deeply interrelated with one another. They as producers have evolved their content while interacting with their consumers and along which have developed and changed their identity and what they represent. 
Works Cited
"Around The Clock Busking With Two Violins". 2017. RNZ. https://www.rnz.co.nz/concert/programmes/upbeat/audio/201838535/around-the-clock-busking-with-two-violins.
Bali, Meghna. 2017. "Brisbane Youtubers Crowdfund Their Way To Global Violin Tour".
Abc.Net.Au. https://www.abc.net.au/news/2017-04-14/brisbane-youtubers-twoset-violin-raise-money-world-tour/8443132.
Dallas, Kimon. The Strad. 2020. "Digital Double Act: Twoset Violin", , 2020. https://www.thestrad.com/issue-archive/2020/august.
Justine, Ngyuyen. 2017. "Twoset Violin Raise Over $50,000 For Their First World Tour". Limelight. https://limelightmagazine.com.au/news/twoset-violin-raise-over-50000-for-their-first-world-tour/.
"The Internet's Going Nuts Over This Violin Cover Of BTS' 'Blood, Sweat, & Tears'". 2016. SBS Popasia. https://www.sbs.com.au/popasia/blog/2016/12/20/internets-going-nuts-over-violin-cover-bts-blood-sweat-tears.
Sergi, Justin. 2016. "Twoset Violin Offer A Guide To Understanding Conservatory Friends |
WQXR Editorial | WQXR". WQXR. https://www.wqxr.org/story/twoset-violin-guide-understanding-music-conservatory-friends/.
Sydney Symphony Orchestra. 2016. When Twoset Violin Crashes Lang Lang'S Rehearsal With The SSO…. Video. https://www.youtube.com/watch?v=ocWgVjWCysw.
Yang, Brett, and Eddy Chen. 2021. "Twoset Violin — About". Twoset Violin. Accessed
November 5. https://www.twosetviolin.com/about.
Zhao, Jingyu. 2017. "搞笑也是一種功力!雙琴俠 Twoset Violin首度在台演出 – 生活". 中時
新聞網. https://www.chinatimes.com/realtimenews/20170829004197-260405?chdtv.
Zhao, Jingyu. 2017. "搞笑雙琴俠 登台奏古典". Tw.News.Yahoo.Com. https://tw.news.yahoo.com/%E6%90%9E%E7%AC%91%E9%9B%99%E7%90%B4%E4%BF%A0-%E7%99%BB%E5%8F%B0%E5%A5%8F%E5%8F%A4%E5%85%B8-215006176.html.